Joining me today in The Loft is romantic suspense author Zara West. Zara divides her time between New York and the Maritimes, but seeks the inspiration for her tales of suspense, mystery, and romance from wherever she travels. An accomplished artist by training, Zara also enjoys tending to her organic herb garden, collecting hats and cats, and whipping up ethnic dishes for friends and family.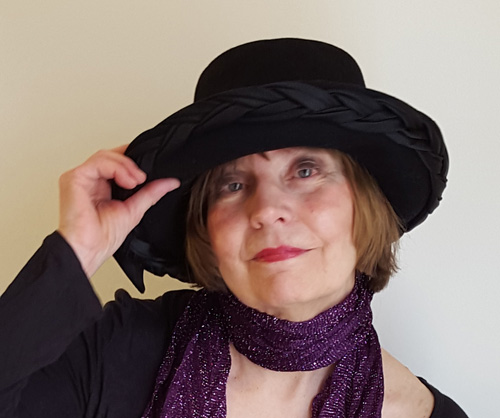 Author Zara West
S: Good morning, Zara, and thanks so much for joining me today. Tell me, why do you write romance?
Z:
When I turned from writing non-fiction to fiction, I didn't set out to write romance. But when I looked around my house, the biggest pile of fiction books I had were all romances. I loved the happy endings, and I was especially inspired by Shana Abe's beautiful writing. So when I picked up my pen, a love story set in the place I was born, Williamsburg, Brooklyn, seemed a natural way to start. But I also like sexy-hot, thrilling, page-turners like Shannon McKenna's novels so I didn't want to make it easy on my characters. In my Skin Quartet series, I made sure there was plenty of action, conflict, and even a bit of terror in my stories. Book 1 Beneath the Skin is about a kidnapped tattoo artist and the two people trying to rescue her. Along the way they have to learn to trust each other in order to save not only her, but themselves. In Book 2, Close to the Skin, a billionaire crime boss is taken captive and tortured by his own brother who wants the crime empire for himself. But will the woman who loves him be able to save him before it is too late? In my new release Within the Skin, an illegal immigrant, to support her family, robs a wealthy architect. But when she is forced to steal for a criminal enterprise, he faces down his worst fears to save her.
S: If someone wrote a song about you, what would be the title?
Z:
"Dancing through Life" It might be hard for anyone who has read my romantic thrillers to believe, but I am a naturally upbeat, happy person. I have done some pretty amazing things in my life – everything from climbing mountains to living with Greek shepherds, teaching art to running a sheep farm. I have enjoyed each and every experience, and I hope to have many more. But I think what would make me dance my feet off would be would be writing a best-selling novel!
S: I'm impressed. I have always been a little afraid of sheep and you ran a sheep farm? You must have a tremendous sense of adventure!
You have a new book coming out September 17. Complete this sentence for me: "When one of my books is released, I…."
Z:
When one of my books is released, it's like a dream come true. I never thought I would be writing romances. I studied art and planned on being a professional artist, and in particular, a book illustrator. But I should have had a hint that my future was going to involve writing. My very first book was a how-to on building weaving looms. And yes, I illustrated it, but I also wrote it. I went on to illustrate two other books. But the writing side of me was awakened.
S: Why choose writing?

Z: Writing is so many things for me. It is exciting. It is fulfilling. It is something I am driven to do. But most of all, it is a way to bring alive characters who face obstacles, take a stand, and find their happy ending. In my Skin Quartet series, I have a cast of characters who have dealt with homelessness, discrimination, injury, depression, death, and being the victims of ruthless criminals. I hope that in some way my strong characters empower readers and show that through persistence and love, the world can be made a better place, especially if we are willing to trust each other and stand up for each other.
S: What can you tell me about your book, "Within the Skin?"
Z:
Here's the blurb--
Known as El Toro, street artist Alba Vargas is on the cusp of fame and fortune. Winner of a prestigious award, she is the toast of the New York City art scene. Or at least she will be, once she figures out how to act like a woman after living disguised as a boy for six years. If she is lucky, she might even attract the attention of the tattoo artist she has long loved from afar. Tattoo artist Fernando Pharaoh has betrayed everyone who ever cared about him, including El Toro, the street-wise graffiti artist who saved his life when all looked bleak. Depressed, he turns from his friends and becomes ensnared in a criminal enterprise run by a former enemy. Then the crime boss kidnaps Toro's younger brother, Hanger. Blaming himself, Pharaoh sets out to rescue him, resolving to do one good thing in his life. But Toro has her own desperate plan to save her brother—one that will not only break Pharaoh's heart—but will also destroy every hope and dream she has ever had.
S: Wow. That sounds like a real nail-biter! Where can readers buy your book?